At least 20 people were killed after a flyover under construction collapsed in Kolkata, India.
A one hundred-metre slab of metal and cement crashed onto moving traffic below, pinning down dozens of people.
Rescuers were combing through the site using sniffer dogs and special cameras to rescue trapped people.
They also used saws and bare hand to dig through the debris in search of victims.
According to a disaster management official, the death toll is expected to rise with many trapped in the rubble.
A senior police officer confirmed at least fifteen critically injured people had been rescued.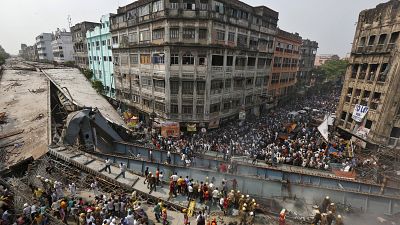 Following the incident, Indian prime minister Narendra Modi took to social media to condole with the afflicted.
The bridge has missed several completion deadlines since construction began in 2009.
Construction collapses are common in the country where regulations are not strictly enforced and contractors use sub standard materials.