The oyo state Gov Makinde Exits Oyo PDP WhatsApp Platform In Anger ..said ".I'm disappointed, we don't expect this from you, Gov told"
The Sudden exit of the Governor of Oyo State, Engr Seyi Makinde, from the official WhatsApp platform of the People's Democratic Party (PDP) in the State created by the party Publicity Secretary, Engr Akeem Olatunji, is causing ripples among members of the party in the State.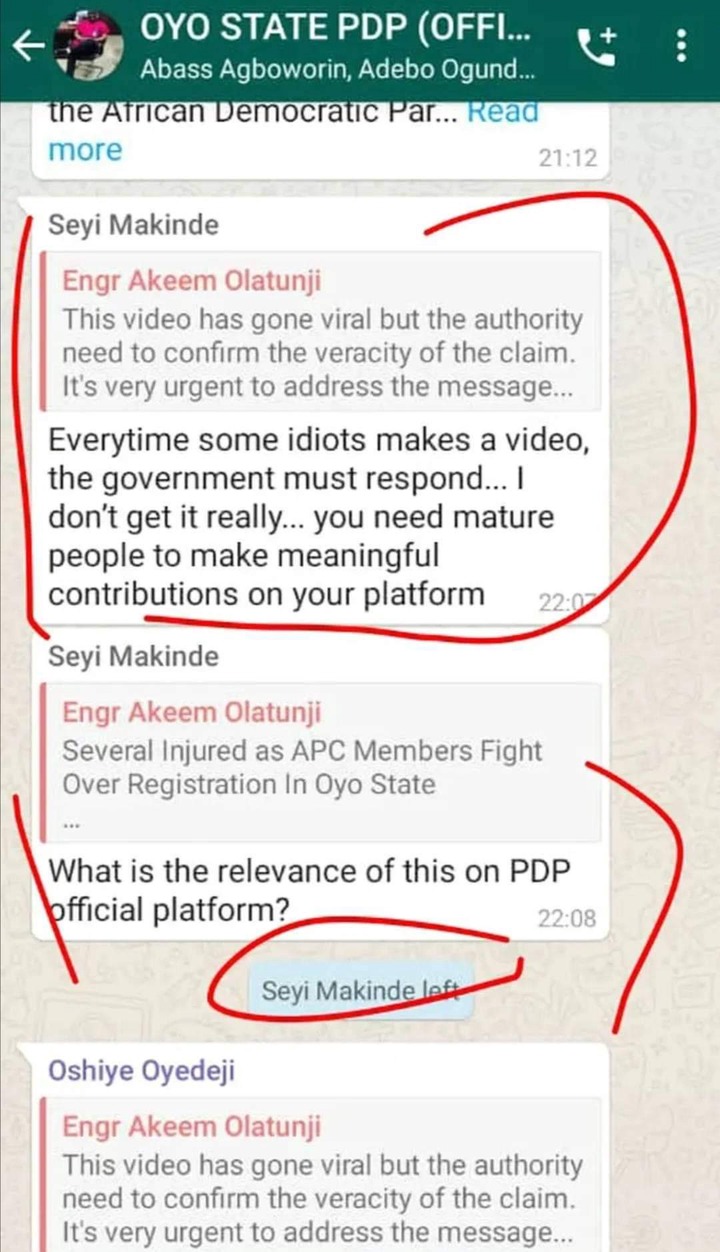 Governor Makinde angrily left the WhatsApp platform at about 10pm yesterday, after he lambasted the PDP State Publicity Secretary akeem olatunji for posting a video on Fulani herdsmen attack on the people of Ayete, headquarters of Ibarapa North Local Government Area of Oyo State, which has other towns like Igangan.
The video which was calling on the governor to take urgent steps to save the people of Ayete from incessant attacks by Fulani herdsmen and the PDP Publicity Secretary posted it on the platform.
Engr Olatunji had commented on the video; "This video has gone viral but the authority need to confirm the claim. It's very urgent to address the message…"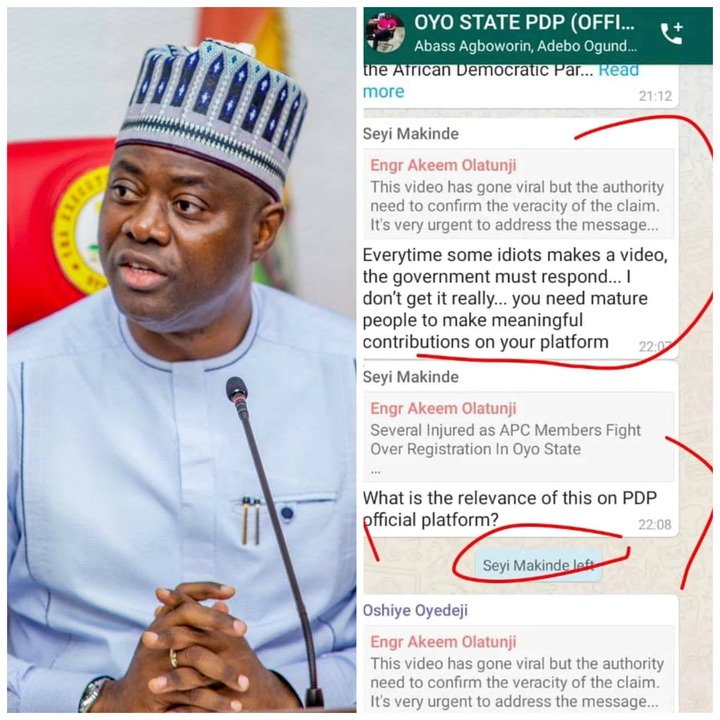 At exactly 10:07pm, Governor Makinde reacted angrily to comment by the PDP Publicity Secretary, saying; "Everytime some idiots makes (sic) a video, the government must respond… I don't get it really… you need mature people to make meaningful contributions on your platform."
The governor also went on to react to another story on the ongoing All Progressives Congress (APC) membership revalidation/registration titled; "Several injured as APC members fight over registration in Oyo State."
Governor Makinde asked; "What is the relevance of this on PDP official platform?"
He then exited the platform.
His exit was followed by comments by other participants in the group, with some saying they were disappointed that a governor could be so intolerant.
"I'm highly disappointed sir, we don't expect this from you.
"Leaders who are low on accommodating may have trouble building up goodwill
with other people," Hon Okunlade Orelope Local Government said.
But Kunle Yusuf, Special Adviser to the Governor on Sustainable Development Goals, tackled Hon. Ogunlade by saying; "Please let us stay clear from the issue, we should becareful with information we shared on this loop."
One Gbade Adediran however took Kunle Yusuf up, telling him there was need for say the truth to power and that people on the platform should act maturely.
He said; "I agreed (sic) with you, but sometimes we need to say the truth, we only need matured people on this platform, we need to respect ourselves, Ajurawlo ti ijakadi ko."