As the sexual abuse allegations against the UN peacekeeping operations in Central African Republic (CAR) pile up, some staunch critics of the U.N. say it is finally moving to address a ubiquitous blight it has long been accused of sweeping under the rug.
Some of the 20,000 residents of CAR, who fled deadly clashes between Muslims and Christians in the capital, Bangui; will not forget so soon how the soldiers sent to save their country instead raped and molested their children.
Reuters report that the case is the worst sex abuse scandal to tarnish the image of the Unite Nations in recent years.
"What have they come to do here in our country, in Central African Republic? I just don't know. They do not do their work normally."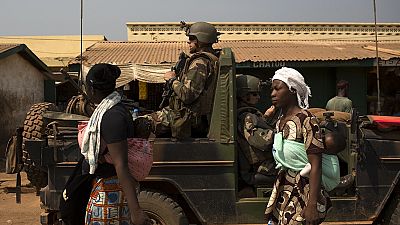 A 47 year-old displaced Emelienne Namsona, lives in the area with her six grandchildren.
"What have they come to do here in our country, in Central African Republic? I just don't know. They do not do their work normally," he said.
In a year and a half since its creation, the Central African peacekeeping operation, MINUSCA, has eclipsed the U.N.'s 15 other active missions.
The initial abuses were allegedly committed at the airport camp, known as M'poko, beginning in 2013, before the establishment of MINUSCA.
Muslim rebels known as Seleka, or "Alliance" in the local Sango language, earlier that year had seized Bangui and toppled President Francois Bozize, provoking a backlash from Christian so-called anti-balaka militias.
Thousands died in the subsequent violence, and a fifth of the population fled their homes amid waves of ethnic cleansing.
Last April, a leaked U.N. report summarizing interviews with victims indicated that at least 13 French troops and five soldiers from the A.U. force raped and abused children at M'poko between December 2013 and June 2014.
UN's initial reaction was to suspend the officials, though they were cleared of wrongdoing.
The repeated allegations have angered Central Africans due to agreements between countries hosting peacekeepers missions and nations that provide troops- UN soldiers are seen as untouchable.
"They cannot be stopped and they cannot be judged here either. The responsibility falls on the contributing nations, states, member-states to lead investigations and put the alleged perpetrators on trial. So our main concern today is not only being able to ensure that these measures can be implemented and that those responsible can at least answer to their actions before the law in their respective countries," said Justice Minister Dominique Said Panguindji.
Last August, Amnesty International's reported that U.N. troops raped a 12-year-old girl and killed a boy and his father during an operation in Bangui.
In an unprecedented move seen by some observers as a turning point for the U.N., Secretary-General Ban Ki-moon demanded the resignation of the head of MINUSCA.
Amid rape allegations, MINUSCA sent home hundreds of troops from Republic of Congo and Democratic Republic of Congo, a country whose army's long record of sexual abuse critics said should have disqualified its deployment in the first place.
Source:BBC